TECH THERAPEUTICS®
Regular price
Sale price
€19,90
Unit price
per
Sale
Sold out
Proven performance by professionals in the sector: Physiotherapists, Osteopaths, Posturologists, Massage therapists.

A natural treatment with the addition of Magnetotherapy in order to relieve pain in the upper vertebrae, restore correct posture, improve blood circulation and increase oxygenation.
Relieves muscle tension: Design created specifically to support the upper back together with the shoulders avoiding the tension created by an incorrect position.

Magnet Therapy Solution: Unique model with Magnets on the central back inserted to help relieve pain and increase blood circulation.

Correct Position: Once worn you will no longer have to think about having to re-establish the correct position of the shoulders, neck and back, he will take care of it and you will not even notice it

Improve your self-esteem: yes, because thanks to the silent work that the shoulder support band will carry out, you will begin to bring your head straight and high, your chest more open and your back straighter, all of which will affect your relationship with yourself and with others,
Who is the Posture Corrector suitable for?
Wearable by all people over the age of 14, the postural band will help your muscles to restore and maintain a correct and safer position in front of others.

It is scientifically proven that those presenting with closed shoulders, head forward and hunched back will transmit to the viewer a feeling of insecurity or fear, while those who assume an upright posture, with the back and shoulders straight and in axis, will easily transmit the feeling of being a self-confident person.
The shoulder posture corrector offers a remedy for back pain, hump, pronounced shoulder curvature, lower back pain and poor posture.

It also fights postural disorders such as kyphosis, lordosis, kyphoscoliosis and winged scapula. 
Wearing it is very easy:

Wear it like a backpack and adjust the traction over the shoulders with the straps but don't over tighten them!
For the first few days wear the back posture corrector for 1-2 hours a day to get used to it, then gradually increase it, it will be normal if you feel sore muscles! It means that the band is working to bring you back to the correct posture.
You can wear it whenever you want but always over at least one cotton t-shirt without putting the material in contact with the skin!
The design of the product will allow you to easily hide it under a jacket or sweater and adjust its traction by tightening or widening the comfortable Velcro straps.
Technical characteristics of the product:
Super Resistant Velcro Strap different from others on the market.

Straps longer than 7 cm and soft.

Magneto-therapy Included with 4 Magnets placed on the central back.


Lightweight, breathable comfortable and adaptable neoprene material.
Dimensions

27 x 18 x 1.8 cm; 80 grams

Size

 

From 85cm to 133 cm around the chest.

Gender

Unisex
E-BOOK INCLUDED and CUSTOMER SERVICE

We provide an e-book with physical exercises, advice, diet and tips to optimize posture in everyday life and for a 360 ° well-being

Request it for free after your purchase here - Your Free E-book
Share
View full details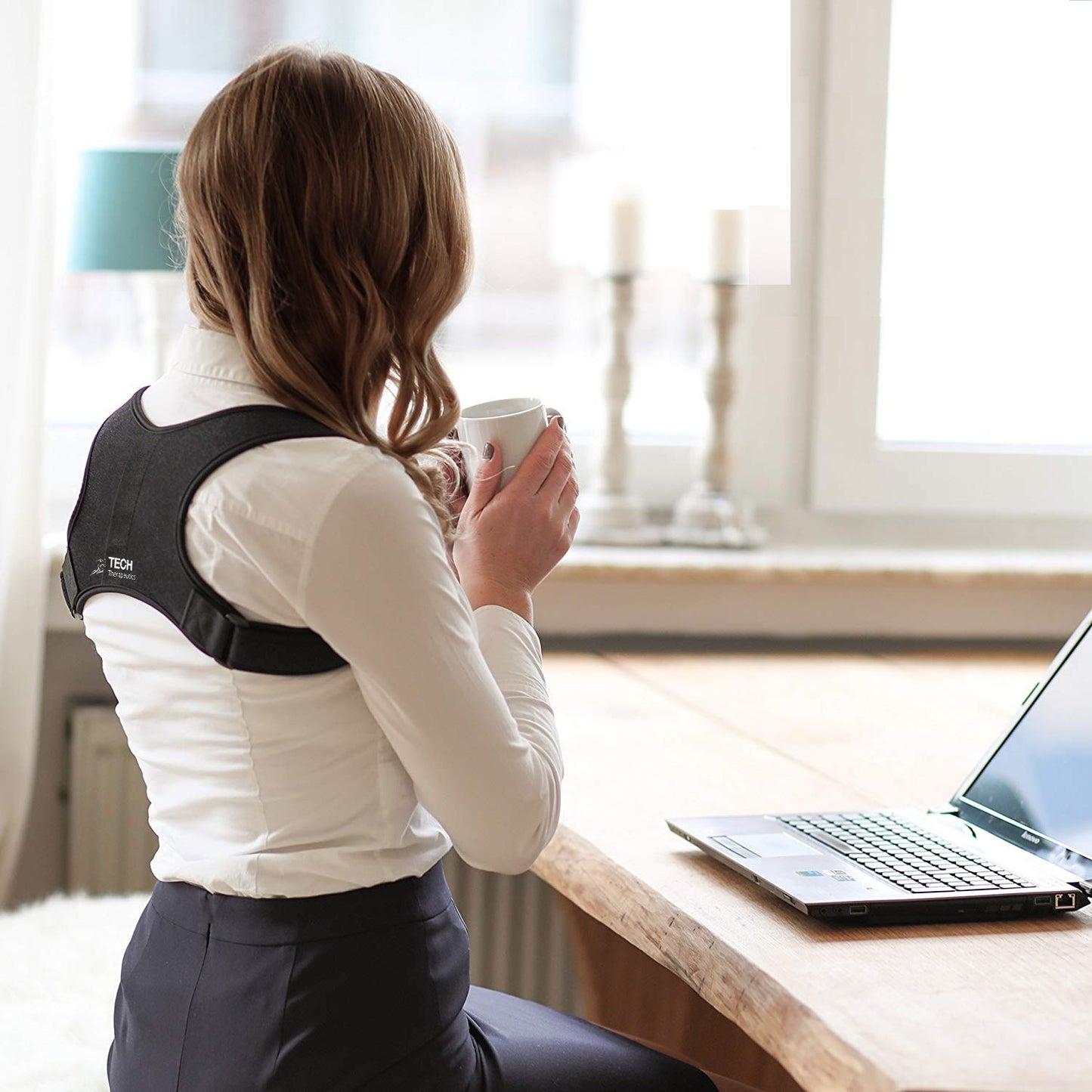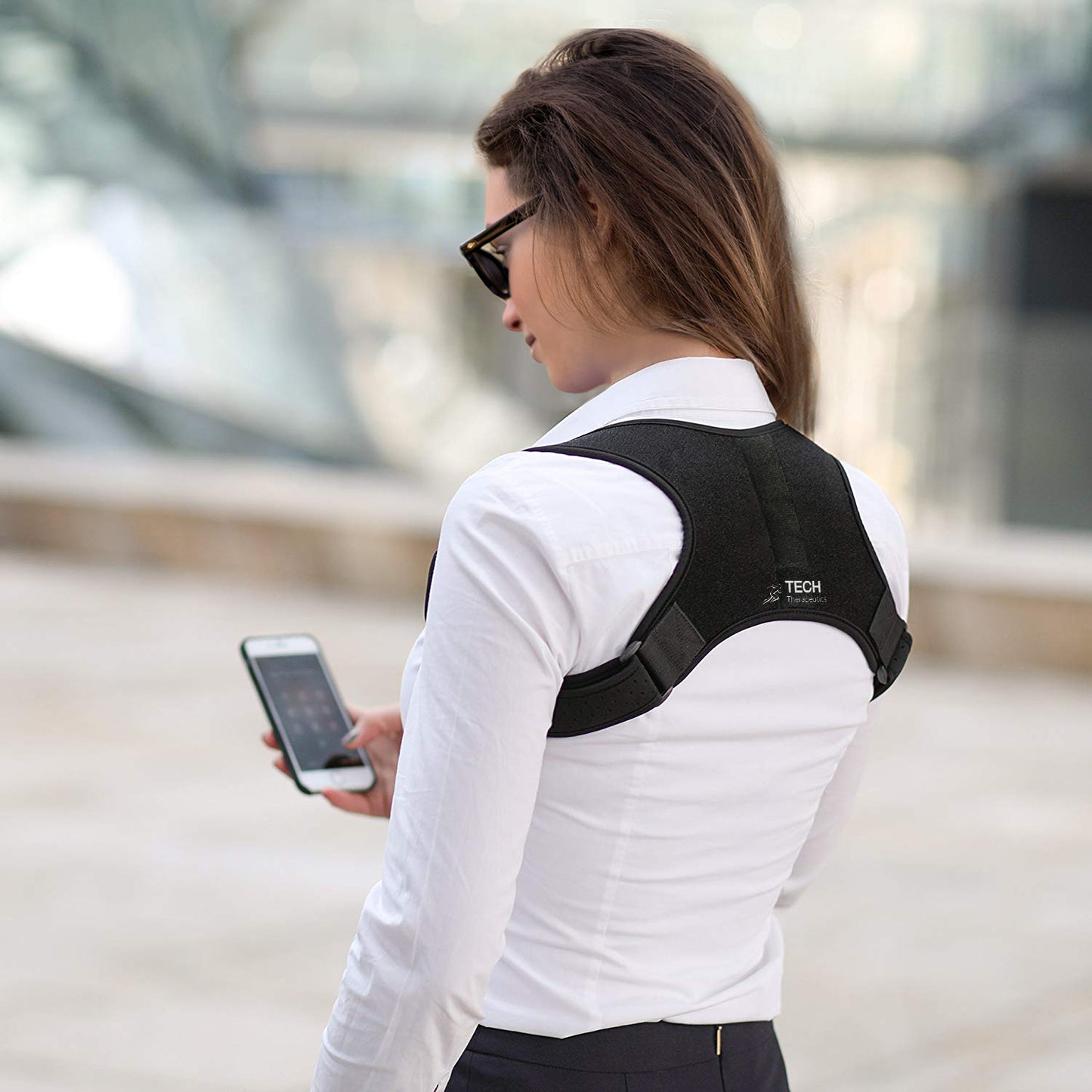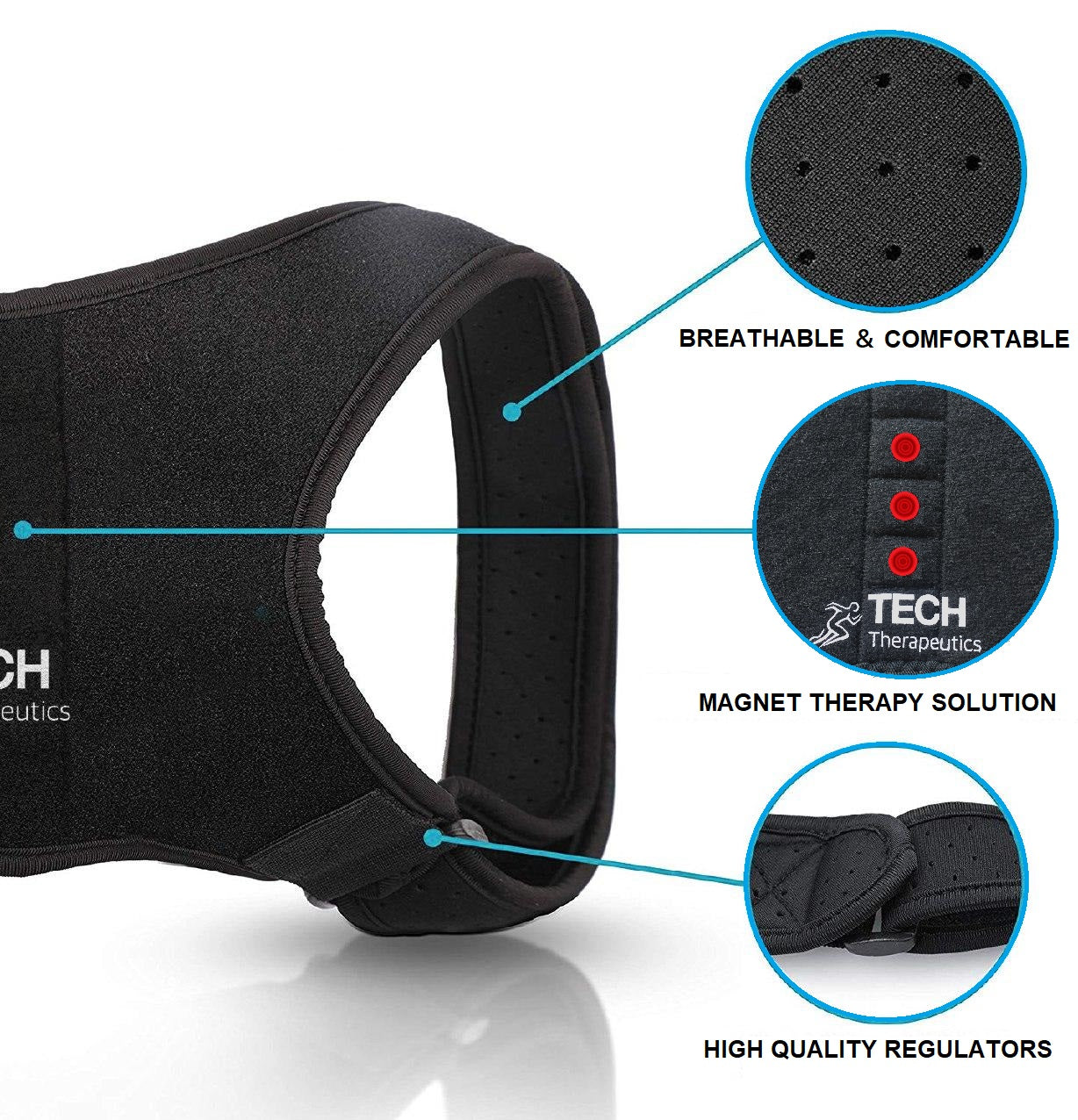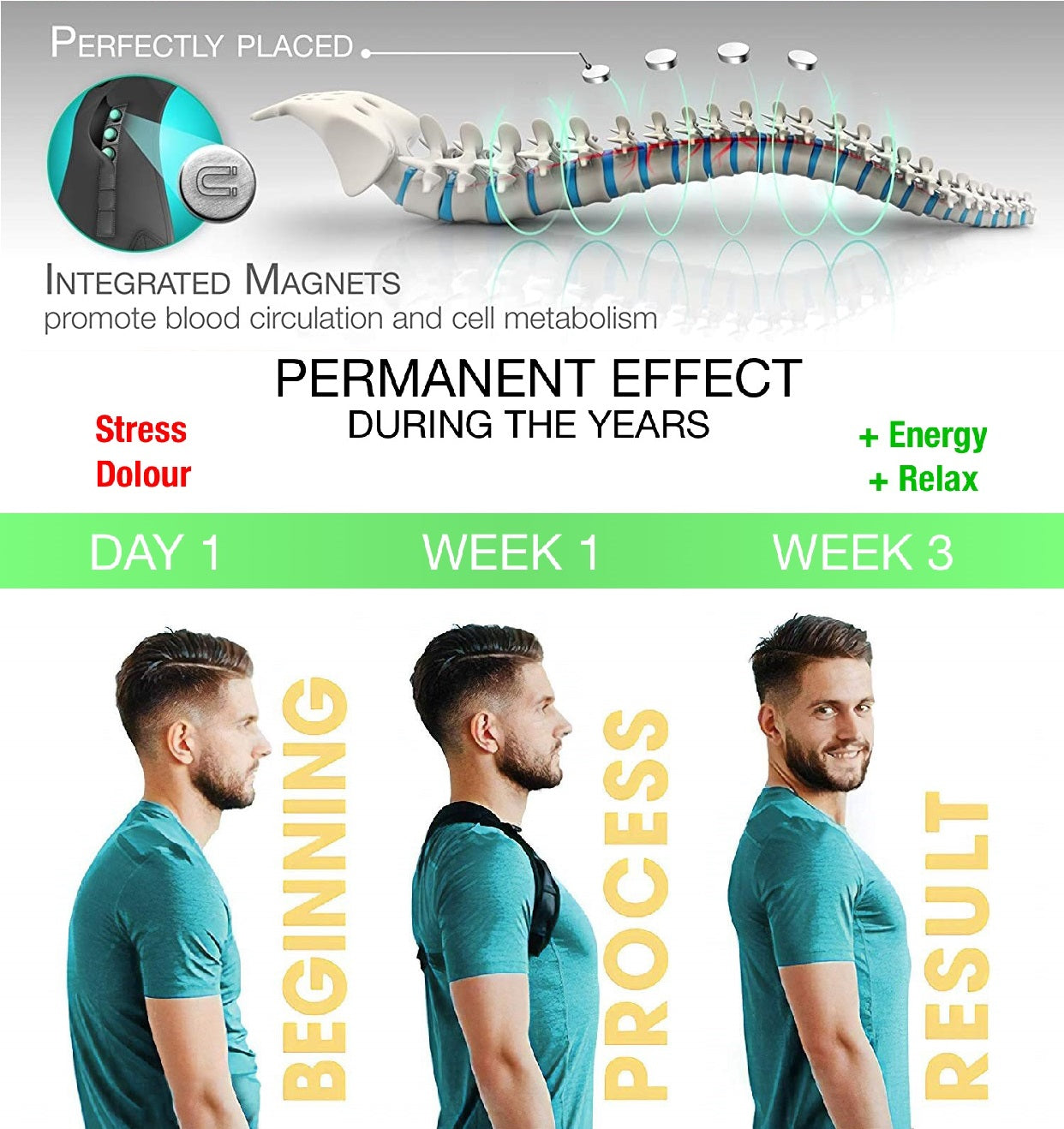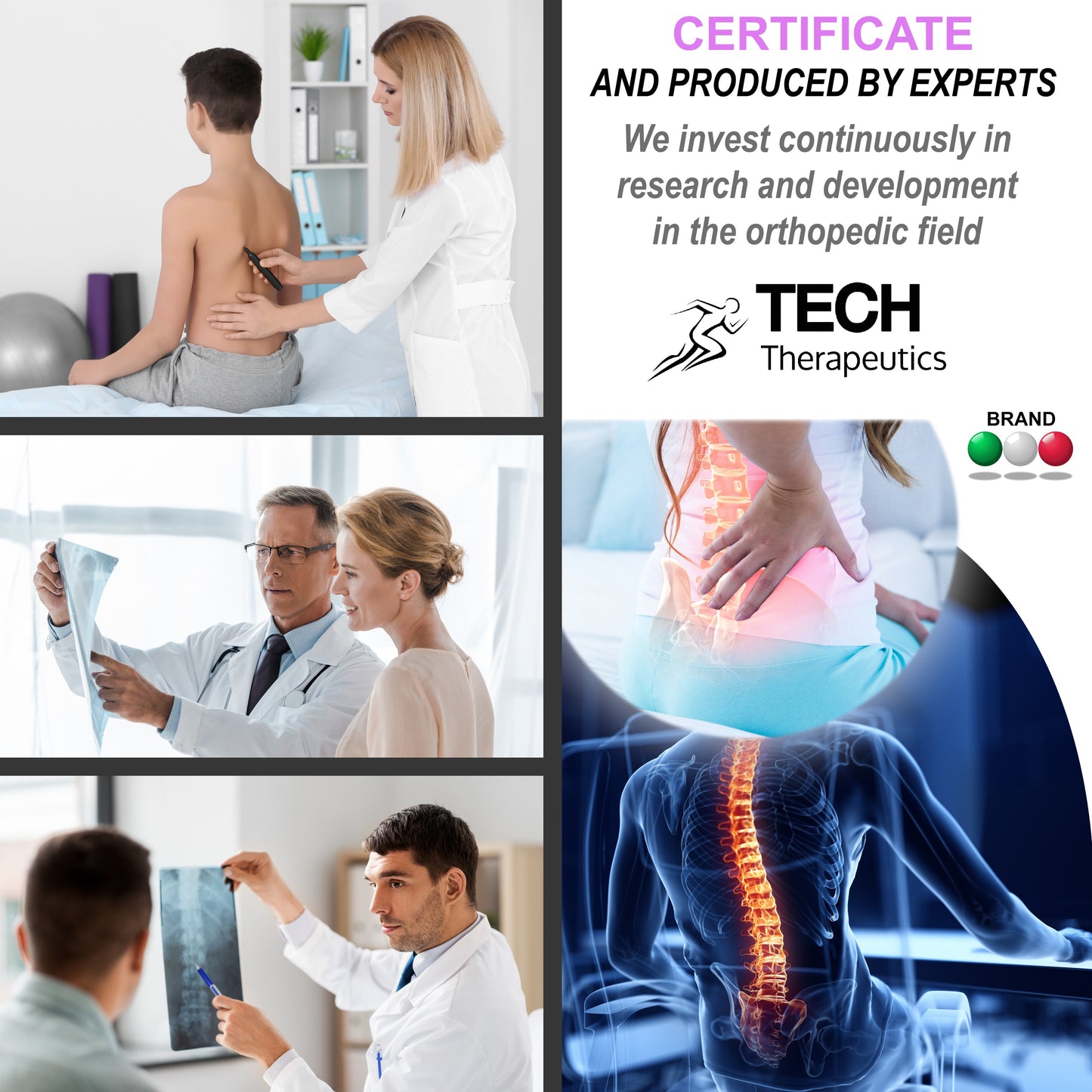 Why choose Tech Therapeutics?
Best-Selling Products in 5 Countries. High-Quality Ergonomic Designs made for you.
Best-Selling Quality

High-quality products focused on well-being and physical health. Don't believe us? Look at the reviews!

Fast Delivery

Delivery will take place within a maximum of 2-3 working days after the order has been processed.

100% Secure

Payments are 100% secured, through Shopify Payment.

360º Customer Service

Our team is here to help, at any step of the process! From making up the decision to questions after.
Back and Neck pain? Tackle both problems.
Having both cervical and lumbar pain, is not as uncommon as one might think!
Lumbar Support Belt
If you suffer from both back and neck pain, either at the same time or due to different causes, have a look at our Lumbar Support Belt.
Shop now